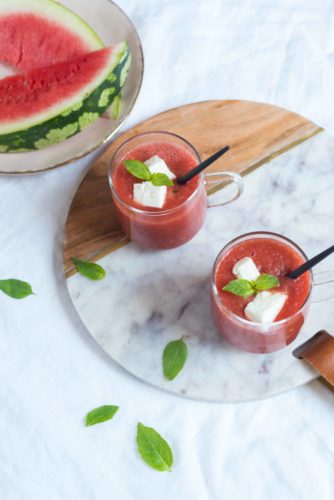 This is a quick and refreshing recipe for a lunch or a warm summer evening! I like to add to this cold watermelon and basil soup some feta cheese (to place on the top!) to add some texture and make it more of a complete meal. But I still make a salad to go with it, because let's be honest, watermelon is mainly water so it isn't very nutritious 😉 As you might have noticed this winter I am a lot into soup, so in summer, I love to use the good vegetables in a cold soup!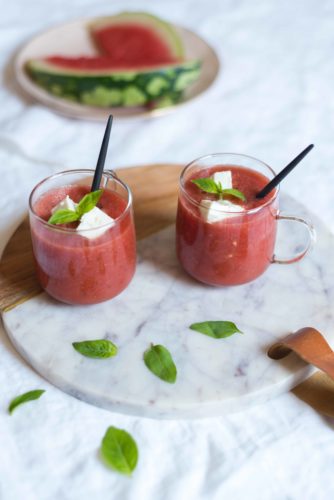 Recipe for 4 people
Difficulty: Easy
Preparation Time: 10 min
Ingredients :
1kg watermelon
3 nice and red tomatoes
15 basil leaves
2 tbsp balsamic vinegar
3 tbsp sherry vinegar
Some feta cheese, diced
Salt & Pepper of the mill
Steps :
Remove the peel from the flesh of the watermelon, remove the seeds and then cut into cubes.
Ground your tomatoes (you can find how to do that here, in point 2) and then cut them into pieces.
In a blender, place the watermelon, tomatoes, basil leaves and mix.
To season, add the 2 vinegars, a little bit of salt and a few turns of freshly ground pepper and mix again.
Dice the feta cheese and add some on top. Decorate with basil leaves.