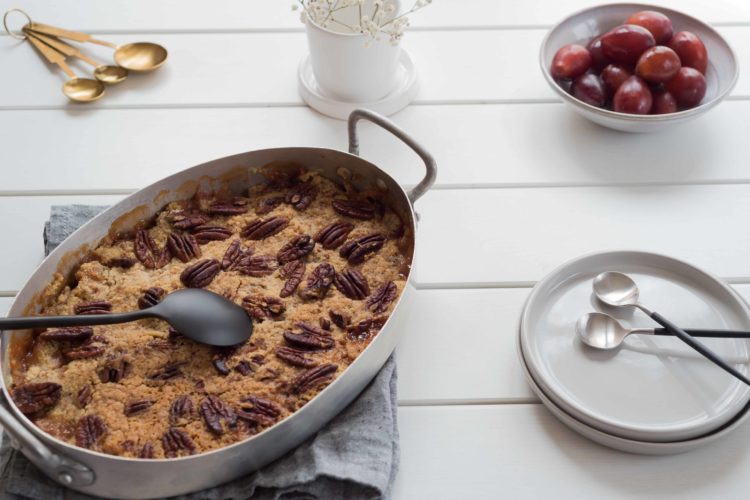 For the last recipe of this "Week of taste" in partnership with photoweb, I bet you'll love this plum and pecan crumble! If you want to know a little bit more about me and know some tricks about culinary photos, I invite you to read my interview on photoweb's website. Well it is in French but I guess you can translate it with google

Let's go back to this delicious dessert… I think I found the THE perfect ingredient that I will put into all my crumbles now: the pecan nuts. I had already tested the association in the figs and pecan crumble recipe and it works so well! I let you discover and try this crunchy recipe!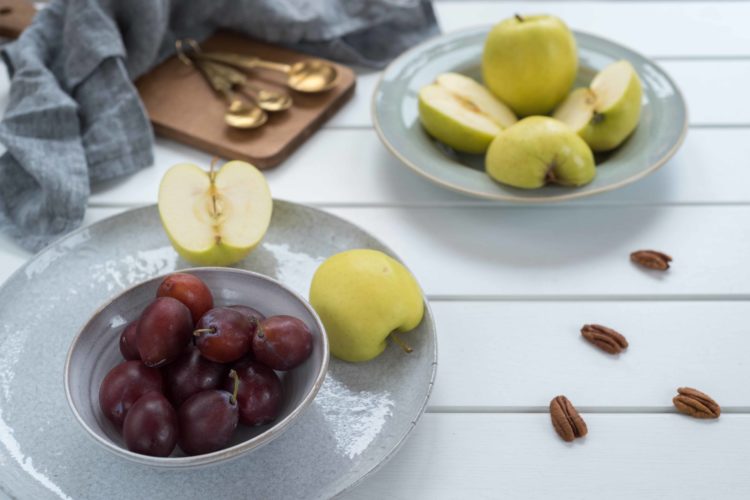 Recipe for 6 to 8 people
Difficulty: Easy
Preparation time: 15 min
Cooking time: 40 min
Ingredients :
100g flour
115g cold butter cut into pieces
80g caster sugar
70g pecan nuts
500g plums
4 apples
Steps :
Peel the apples and dice them. In a saucepan display your quartered plum with apples and let it melt in 15g butter for 10 minutes
In the meantime, preheat the oven to 180 ° and prepare the crumble dough. Mix the flour with the tips of your fingers (or the robot), with 100g of butter and the sugar until the dough is sandy.
Pour your apple / plum mixture into a baking dish, cover with your crumble dough and add over the pecans. Let cook for about 30 min.