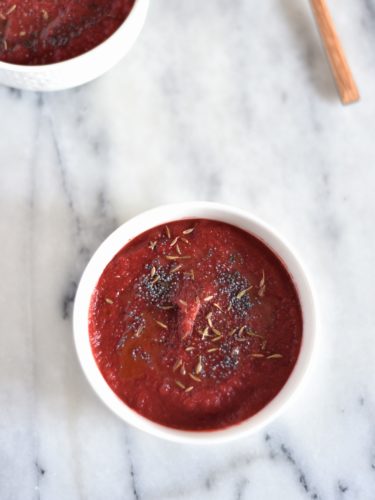 Bringing here a little bit of originality with this beetroot and sweet potato soup with cumin seeds! At the moment I am quite addictive to beetroot (don't ask me why…) And when I found this recipe in the last French magazine Regal I immediately wanted to try it. I have made a few changes (as usual :)) and it has been a great success ! It tastes a bit the beetroot (and not so much the sweet potato) so you can remove a beetroot if you want to taste it less, on the other hand it doesn't taste at all the the earthy taste beetroot can have sometimes. Ready in 5 minutes; it is a big point for this soup!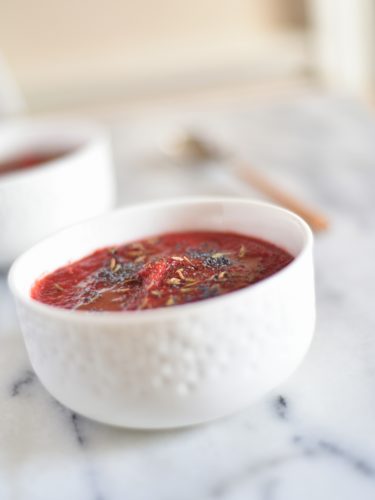 Recipe for 4 people
Difficulty: Easy
Preparation Time: 5 minutes
Cooking Time: 45 min
Ingredients :
1 large onion
4 cooked beetroots
1 large sweet potato (approx. 600g)
800ml vegetables stock
A few poppy and cumin seeds
Olive oil
Salt and pepper
Steps :
Peel and cut your onion in slices. Cook in a pan with a bit of olive oil for a few minutes.
Peel and cut your sweet potato in pieces. Cut your beetroots into pieces.
Add the overall in your pan, pour the vegetable stock on the top of it and let it cook for about 45 minutes.
At the end of the cooking, blend the soup, adjust the seasoning. Pour into bowls and add on the top, a bit of olive oil and a few poppy and cumin seeds! Eat while it's hot.