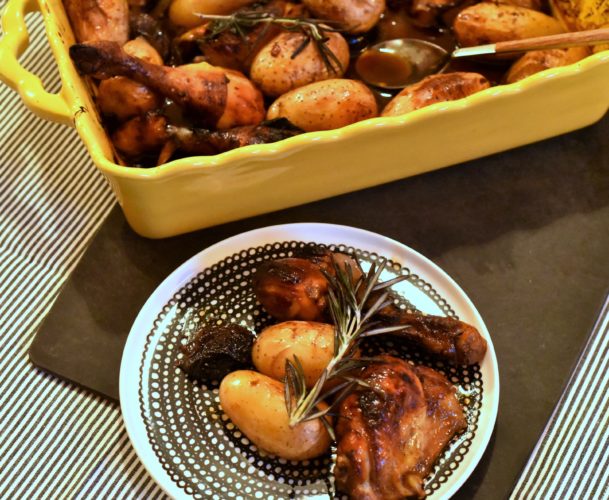 I think that this Chicken with potatoes, prunes and pomegranate molasses might be one of my favorite recipes! I guarantee the WOW effect from the dish and the entire satisfaction from your guests. You will see that this recipe is very easy to do. For sure the ingredients list is quite long, but it is definitely worth it! I've discovered this Ottolenghi recipe through my sister and you can find the original one here – I have slightly changed it. The key ingredient for this recipe is the pomegranate molasses, that will caramelized the chicken and potatoes. The dish creates lots of delicious juice so make sure you've got some good bread here! There are two ingredients which can be a little difficult to find but once purchased you can make this recipe several times (I have already made the recipe 3 times in a few months!).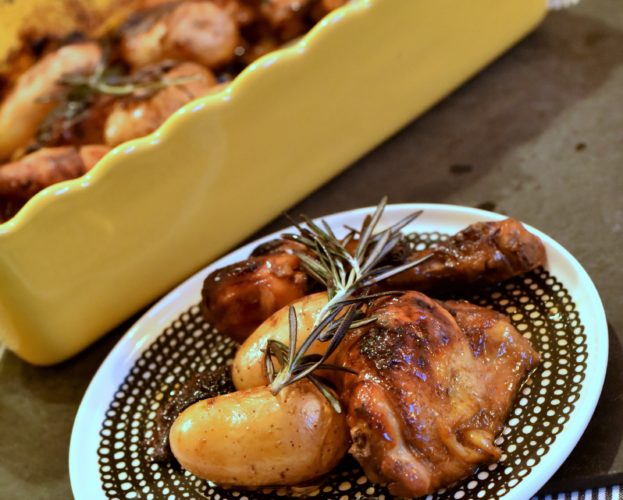 Recipe for 4 people
Difficulty: Easy
Preparation Time: 20 minutes
Cooking Time: 2 hours
Resting time: 15 minutes
Ingredients :
4 drumsticks
4 thighs
12 medium charlotte potatoes, peeled
2 medium onions, peeled and quartered
110g pitted prunes
15g grated fresh ginger
50ml soy sauce
45ml pomegrenate molasses
1 tbsp maple syrup
60g sweet mango chutney
½ tsp whole black peppercorns
A few oregano sprigs to garnish
Steps :
Preheat your oven to 200°.
In a bowl, mix the soy sauce, pomegranate molasses, maple syrup, the mango chutney. Add the fresh ginger, pepper and mix well.
Dip the pieces of chicken in the sauce and then place in a cooking dish. Add in the dish the prunes and potatoes, pour the remaining sauce on the top and cover with foil.
Put in the oven for 10 minutes, and then turn down to 180° and remove the foil. Cook for 1h50, stirring from time to time and checking the cooking. Once cooked, cover with foil and set aside for 15 minutes. Garnish plates with origano sprigs. I served the dish with green beans.