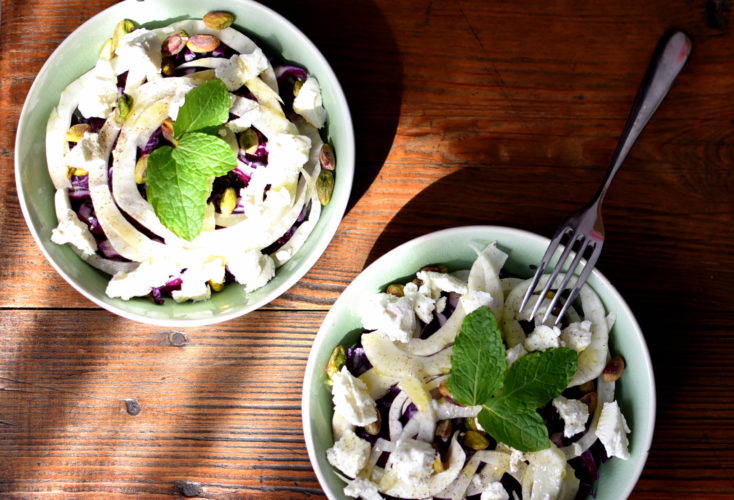 After the holidays we are going to try to eat lighter, even if it is difficult with the cold weather which is coming and the galette des rois (French desert made with almond paste that we call Frangipane to celebrate the 3 kings) making its entrance! I will post a few light recipes but there will be a good galette around. In the meantime here is a detox salad with fennel and red cabbage. The fennel is the perfect ally in the fight against difficult digestions. It has also vitamins and elements such as potassium, calcium, magnesium, iron. Associated with the cabbage that is a good source of vitamin C but also rich in mineral salts, here is the ideal salad to boost this beginning of the year!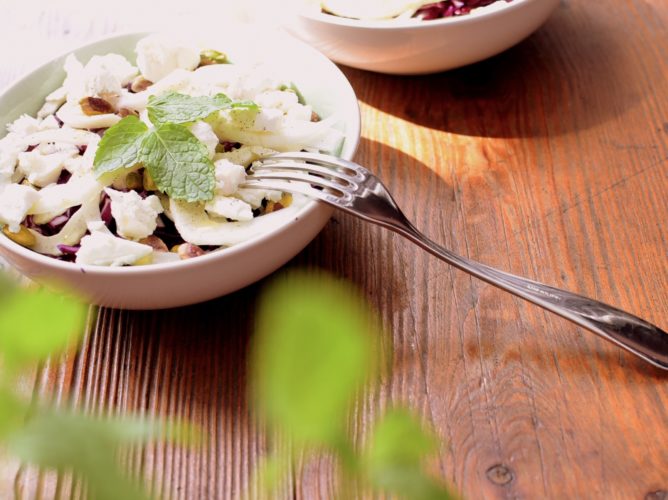 Recipe for 4 people
Difficulty: Easy
Preparation Time: 10 min
Ingredients :
2 fennel bulbs
½ red cabbage
50g pistachios (preferably not salted)
70g feta cheese
A few mint leaves
3 tablespoons of olive oil
The juice of a lemon
Salt & pepper
Steps :
Finely cut the cabbage and fennel bulbs and display them on some plates.
Add above the feta crumbled and pistachios.
In a bowl, prepare the sauce by mixing the oil with the lemon juice and salt and pepper.
Add the sauce on the preparation and decorate with mint leaves on the top.