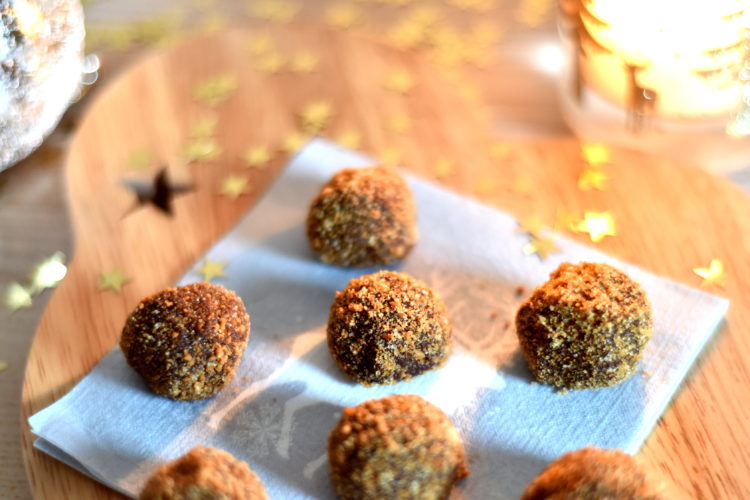 A classic from Christmas: the chocolate truffles! I just wanted to customize them a little bit and as I am quite a big fan of spéculoos I simply changed the end of the recipe by replacing the cocoa by some spéculoos: it is much crispier! I have also added to the chocolate ganache some spéculoos paste but to be honest it doesn't taste much so it will be optional in my recipe 🙂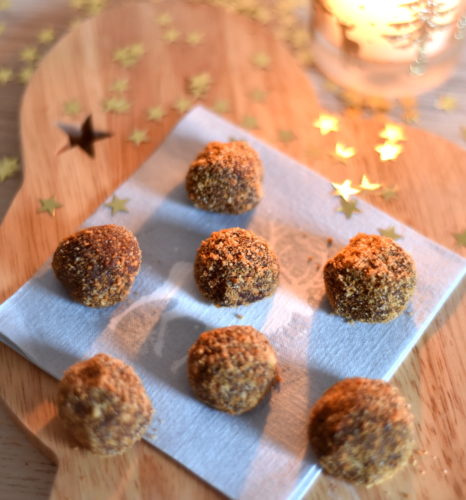 Recipe for 40 truffles about
Difficulty: Easy
Preparation Time: 20 minutes
Refrigeration Time: 1 hour
Cooking Time: 3 minutes
Ingredients :
200g dark chocolate
20cl double cream
8 spéculoos biscuits
2 tablespoons of demerara sugar
Optional: 2 tablespoons of spéculoos paste
Steps :
Cut the chocolate into chunks.
Bring to boil the cream. Turn off the fire and pour the cream on the chocolate. Stir until it is properly incorporated. If you want to add some spéculoos paste, integrate it to the chocolate ganache and stir again.
Place the ganache into the fridge for 45 minutes. Then, put it in the freezer for 15 minutes (optional, however the ganache will be easier to shape).
During this time, mix your spéculoos and add the sugar.
Using a tea spoon, take a little bit of chocolate ganache and drop it in the palm of your hand. Roll the ganache with your palms to form a ball.
Roll the balls in the mixture spéculoos-sugar. Eat them all quickly if you want the speculoos to remain crispy!