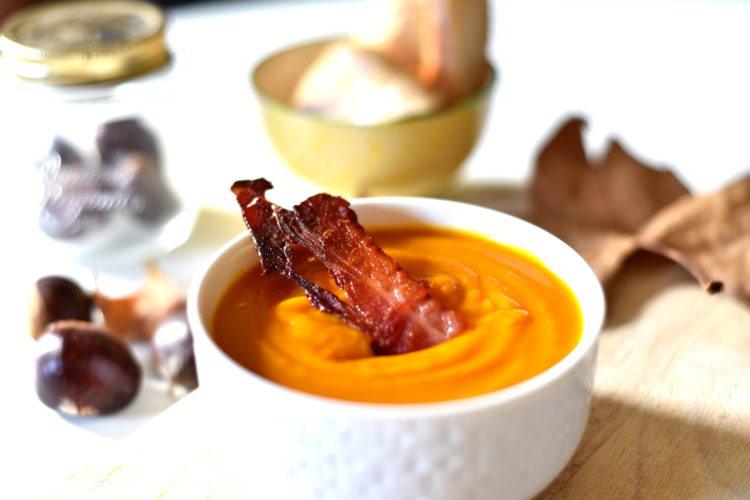 I just created a new "Soup" tab on my blog because I love the soups and we're back in the cold season I will quite a few recipes! One of my favorite soups is the butternut soup! To make this recipe a little more gourmet I have added there chestnuts and some crispy bacon. We often have soup and cheese for dinner to make simple meals, balanced but good at the same time (and this is perfect for cold evenings!). I hope you enjoy it.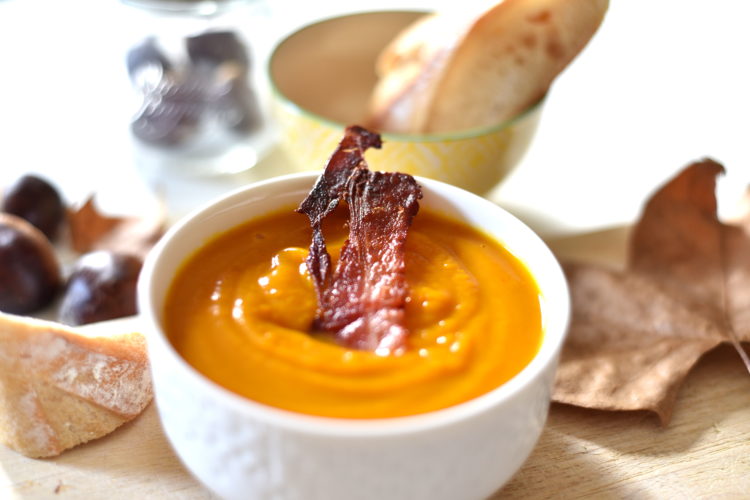 Recipe for 4 people
Difficulty: Easy
Preparation Time: 15 minutes
Cooking Time: 30 min
Ingrédients :
1 butternut
1 Onion
150g of chestnuts (I sugggest in cans or frozen to make it quicker)
4 slices of bacon
Salt and pepper
A little bit of butter or olive oil
Steps :
Remove the butternut skin, cut it into 2 pieces, remove seeds and cut in cubes.
Cut your onions and cook them in the pan with a little bit of oil or butter until melted.
Then add the diced butternut, salt and fill with water up to cover the vegetables. Let it cook for approximately 30 minutes. 5 minutes before mixing, add the chesnuts
During this time preheat your oven on 180°. Put the slices of bacon on a cooking plate covered with baking paper. Cover them with the baking paper and put onto it another cooking plate or a kitchen utensil to create weight on the slices.
Cook for 10-15 minutes until the slices are crispy.
Blend your soup and then add the slices of bacon as well as a little pepper.