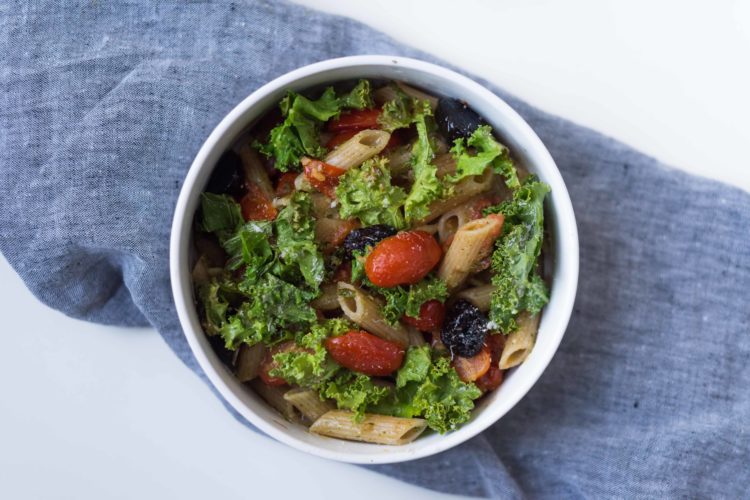 You requested from a survey I made on my Instagram account that next recipe would be a salty one! Here is then a super easy recipe of pasta with pesto, tomatoes and crispy kale. The recipe is rather quick to make, it really tastes good and I love the sauce it creates with the pesto and tomatoes almost candied. It pleased the whole family! I bought the pesto already made (but of course it can't be better than a homemade one) from the chilled section of a healthy food store. Basically the pesto is made directly fresh and is delicious, very close from a homemade pesto.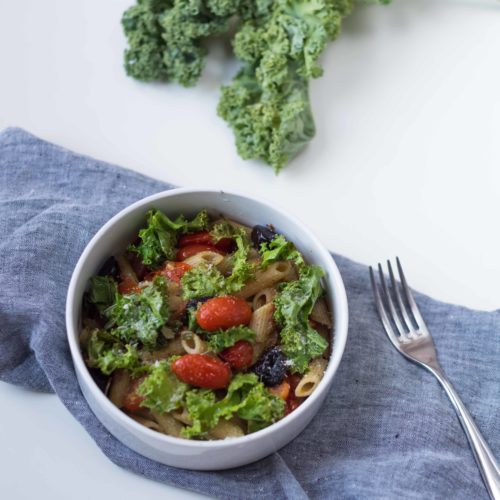 Recipe for 4 people
Difficulty: Easy
Preparation time: 15 min
Cooking time: 25 min
Ingredients :
2 tbsp pesto
250g cherry tomatoes
1 garlic clove
2 tbsp black olives
Olive oil
400g pasta
3 branches of Kale
Optional: grated Parmesan cheese
Steps :
Cut your garlic and cook it in a pan with 3 tbsp olive oil.
Add your cherry tomatoes cut in half lengthwise and cook until melted (about 10 minutes).
In the meantime cook your pasta.
Remove the leaves from the cabbage stem and cut into pieces (not too thin). Heat oil in a pan and add your leaves for 4-5 minutes until it becomes crispy.
Once the pasta is cooked, pour it into the pan containing the cherry tomatoes, add the pesto, the olives and stir. Arrange in bowls and cover with the crispy kale. You can also add some grated Parmesan cheese over it.