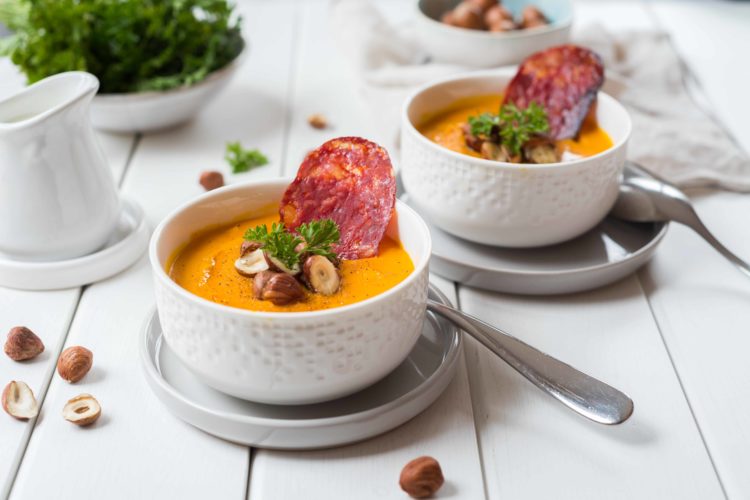 This week I'm partnering with Photoweb to offer you seasonal recipes around the "Semaine du gout" which would translate in "the tasty week"  It is basically an event occurring every year on the transmission and education of culinary culture and heritage. So, I will post throughout this week a starter, dish and dessert recipe which I hope will inspire you to compose your daily menus. We start with this winter squash velouté, hazelnut and chorizo ​​crisp. I explain step by step how to make this recipe, you will see, nothing very difficult.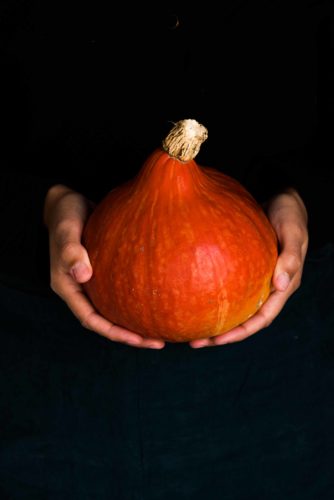 Recipe for 4 people
Difficulty: Easy
Preparation time: 15 min
Cooking time: 45 min
Ingredients :
4kg winter squash
1L milk
1 large handful of hazelnuts, peeled and crushed
4 slices of chorizo
1 large onion
Olive oil
Salt and freshly ground pepper
Branches of parsley
Steps :
Cook the onion (peeled and diced) with some olive oil in a large pan.
Meanwhile, cut the winter squash in 2 in the height and remove the seeds. Cut into dice whilst keeping the skin.
Add the winter squash dices to your pan, pour the milk over it and season with a little bit of salt and freshly ground pepper. Let it cook for 30-35 minutes until the winter squash is tender.
During this time preheat your oven to 180 °. Arrange the chorizo ​​slices on a baking tray covered with bakingpaper. Cover them with baking paper and place on the top another baking tray or utensil to make weight on the slices.
Let cook for about 8 minutes until the slices color. Beware that it can burn quickly. Once cooked, put them aside, they will harden.
Once the cooking of your soup is done, mix it, arrange in bowls and add over your crushed hazelnuts, chorizo ​​chips, a few parsley leaves and a drizzle of olive oil. Eat while it's hot!