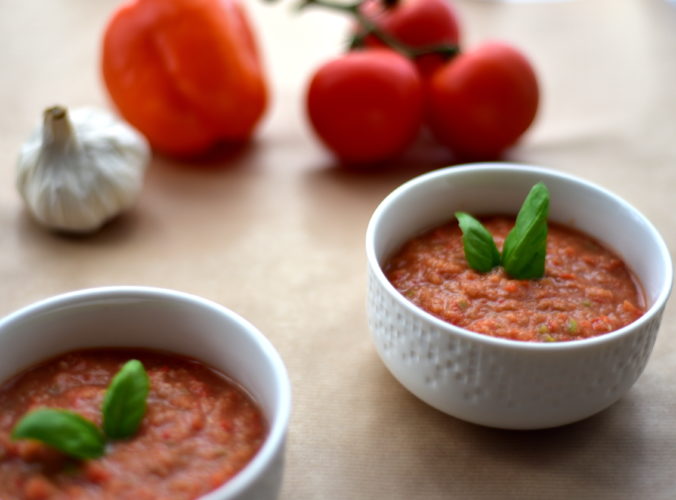 This Spanish recipe is my favorite cold soup of the summer (well, summer hasn't started yet but on this first rainy day of June I have good hope that the sun will return quickly!!).
So as I said the Gazpacho is consumed mainly in the summer (at least in France) and I love to have it either as a starter or as a main dish (when adding – the possibilities are endless – a bit of  goat cheese, some croutons or even crayfish or shrimp.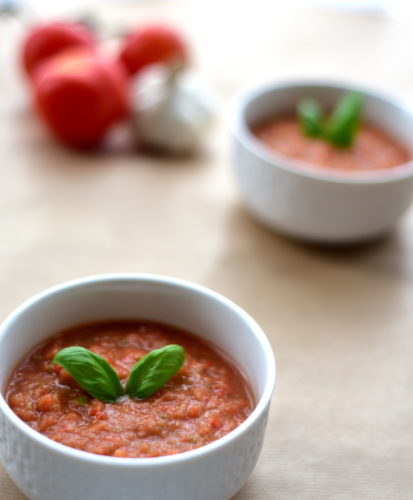 Recipe for 4 people
Difficulty: Easy
Preparation Time: 15 min
Resting time: 1 hour
Cooking Time: 0 min
Ingredients :
1 green pepper
1 red pepper
5 tomatoes
1 clove of garlic
1 white onion
¾ of cucumber
4 tablespoons olive oil
1 tablespoon balsamic vinegar
2 tablespoons vinegar of Sherry
Salt & Pepper
Steps :
Peel and remove seeds from peppers, then cut into large pieces.
Peel the tomatoes: cut the base of each tomato (make a cross with a knife) then put them into boiling water for 30 seconds. Then get them out and remove the skin. Cut them then in 4.
Peel the clove of garlic, onion and then cut them into pieces.
Cut the ¾ of cucumber into pieces.
Add the vegetables into your blender, pour the oil and the 2 vinegars then mix until the consistency suits you. In this recipe I decided to leave a few pieces of vegetables but you can put the whole at the sieve or strainer to have a preparation without pulp.
Place the Gazpacho in the fridge for at least an hour before serving it cold.