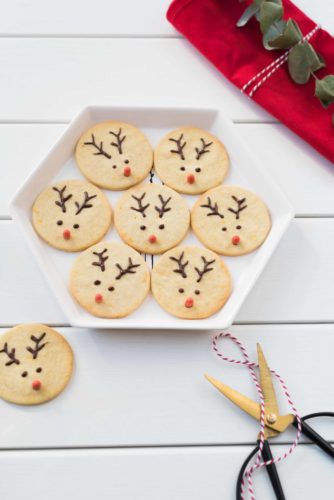 Here is the first recipe for Christmas … This year my professional activity is starting to take a lot of time and with my side projects I have less time to work on the blog. So there won't be a recipe idea or DIY Christmas every day up to Xmas but I still have some recipes for you to come in the next weeks! So we start with a very cute shortbread Christmas reindeer. I found inspiration on Pinterest and I saw that Anne-Sophie from the blog Fashion Cooking had also done last year but I wanted to give them a touch fruit so they taste orange. Very easy and so cute

Also find my recipe for the Christmas biscuits ~ slightly spicy  I made last year.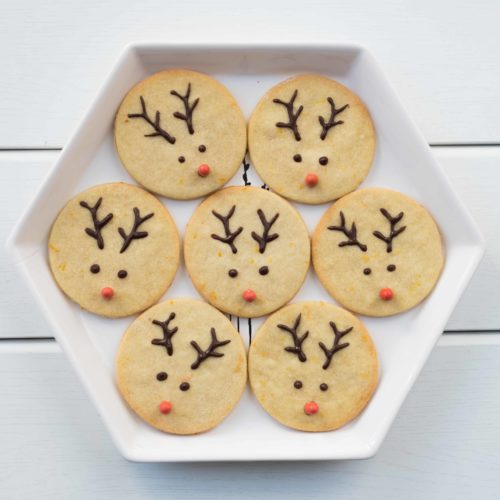 Recipe for thirty biscuits
Difficulty: Easy
Preparation time: 25 min
Cooking time: 12-15 min
Ingrédients :
For the shortbread
250g flour
100g icing sugar
The zest of an untreated orange
Half of an orange juice
5g vanilla sugar
130g cold butter diced
1 egg
1 pinch of salt
For the decoration
20g dark chocolate
2cl single cream
Red candy type smarties, skittles… for the nose
Les étapes :
Prepare your shortbreads by mixing in a bowl the flour with the orange zest. Then add the icing sugar, the vanilla sugar, the pinch of salt and the butter. Mix well between each addition.
2. Once your mixture has a sanded appearance, add the juice and then the egg. Mix well.
3. Form a ball with the dough and cool it for at least 30 minutes.
4. Preheat your oven to 160 °.
5. Spread the dough (about 4cm thick) on your flooring worktop, then using a round cookie cutter (7cm diameter here), cut rounds of dough that you'll place on a baking tray. It is important that the shapes are flat, to cook evenly (and also to avoid deforming when cooked).
6. Bake for 12-15 minutes and remove when the cookies are golden brown.
7. Form a small cornet – have a look at the tutorial here.
8. In a saucepan melt the chocolate with the cream and stir to make the mixture homogeneous.
9. Add the chocolate in the cornet then cut the end and draw the eyes and wood reindeer. Add a drop of chocolate below the eyes and stick over the red candy that will draw the nose.