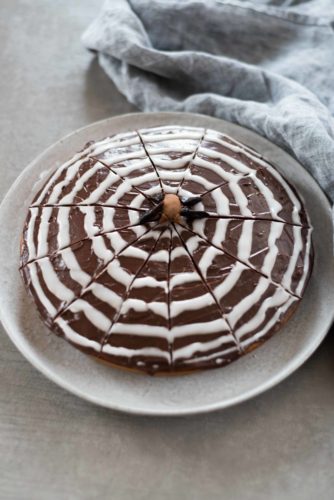 On Tuesday it's Halloween !! I don't know if you are used to celebrate it but I wanted to add a recipe for this occasion onto my blog so you can make it with you children. As you will see on the picture, the cake keeps a surprise inside which is revealed once you slide it

It is indeed a marble cake! and on the top of it a chocolate ganache with a simple frosting to make the spiderweb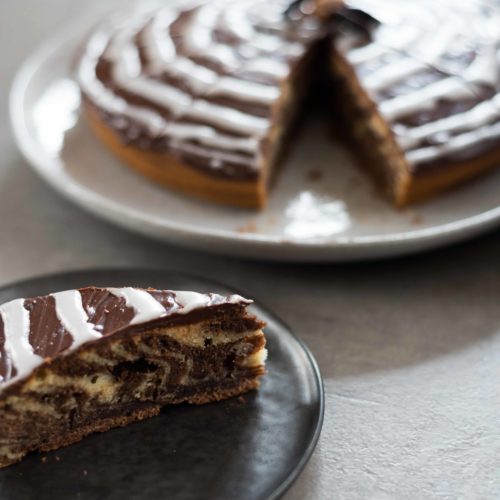 Recipe for 6 to 8 people
Difficulty: Easy
Preparation time: 45 min
Cooking time: 30 min
Ingredients :
For the cake
300g flour
150ml milk
150g butter
150g  sugar
1 tsp of vanilla extract
4 eggs
5g baking powder
1 pinch of salt
2 tbsp. unsweetened cocoa
For the chocolate ganache
90g dark chocolate
80ml double cream
For the frosting (spiderweb)
80g icing sugar
10ml water
Steps :
Cake making
In the bowl of a food processor (or salad bowl) mix together the sugar, the eggs and the vanilla extract.
Add the butter and milk and mix again.
Add the baking powder, salt and flour in several times and mix until the dough is smooth. Then divide this dough into 2.
In one of the bowls, add the cocoa powder and 2 tbsp of water and mix well.
Preheat your oven to 180 °.
In your buttered cake mold, add 3 tablespoons of cocoa dough. Wait until the dough spreads out a little, then add in the center of this circle a tbsp of the nature dough . Wait until the dough spreads out and repeat the operation alternating cocoa dough and nature dough until all the dough has been used up. For the more impatient (because this operation takes 10-15 minutes), you can also pour the dough in 3-4 times alternating in the mold. The cake will be marbled but a little less as a zebra
Then bake for about 30 minutes
Ganache making
Once the cake has cooled, prepare your ganache, pouring on the dark chocolate cut into squares the boiling cream. Stir until chocolate melts. Spread it on the cake.
Spiderweb making
In a bowl mix the icing sugar with the water. Using a pastry bag with a very small opening pour the preparation into the bag, and spread on the chocolate ganache drawing circles. Using a toothpick or the tip of a knife to make lines from the center of the cake to the end.
For the spider, I just took an almond coated with cocoa for the body, raisins for the eyes and slivers of dried prunes for the legs (besides it lacks some;))