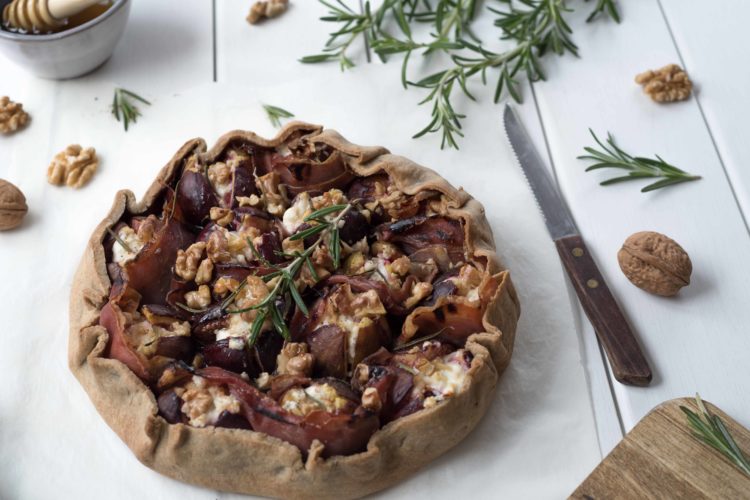 The second recipe of this "week of taste", in partnership with photoweb is a figs, goat cheese and rosemary rustic tart. Do you know the rustic pie? It has a huge advantage, it does not require a mold and is easy to make. All you have to do is to prepare a dough (although you can buy it already made), make a circle out of it and then place in the center the ingredients and finally close the edges on the filling before baking. Since it is the nearly the end of the figs season I wanted to cook them with this tart and although because I love the association sweet /savoury.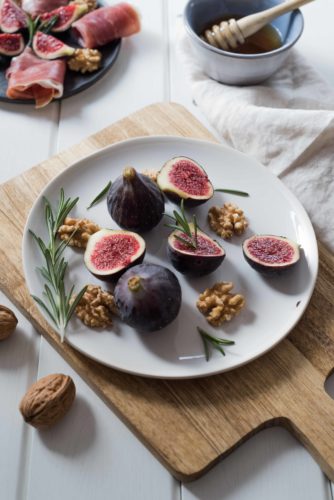 Recipe for 6 people
Difficulty: Easy
Preparation time: 20 min
Cooking time: 20 min
Ingredients :
For the dough
160g wheat flour
90g buckwheat flour
125g butter at room temperature
4cl cold water
2 pinches of salt
For the garnish
15 figs
100g fresh goat cheese
6 slices of parma ham
2 sprigs of rosemary
3tbsp french mustard
3 walnuts
2tbsp honey
2tbsp fine semolina
1 net of olive oil, freshly ground pepper
Steps :
Prepare your dough by mixing the flour and butter in the bowl of a robot (or by hand), then quickly add water and salt. Form a ball and let it cool in the fridge for at least 30 minutes.
Preheat the oven to 180 ° (remove the cooking grid beforehand).
Add some flour to your worktop, spread out your dough in a circle of about 29 cm in diameter. Place it gently on a parchment paper.
Leave a strip of 2cm wide all around and spread in the center the mustard and sprinkle with fine semolina (to absorb the juice from the figs). Then transfer to a cooking grid.
Clean your figs with a damp cloth. Split them in 4 with a knife, leaving the quarters welded and arrange them in the middle.
Garnish the inside of the figs with a small teaspoon of fresh goat cheese and arrange the slices of parma ham between the figs. Then sprinkle with crushed walnuts, honey, a drizzle of olive oil, and give a few rounds of pepper from the mill (no salt is needed because the ham is already salty).
Fold the dough over the filling by tightening the sides, arrange the rosemary and bake for 20 min. Let it cool for 15 minutes so the juice released by the figs can solidify a little bit. Enjoy with a bowl of green salad.