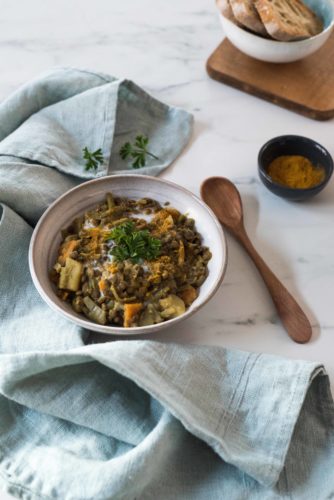 At the beginning of the school year, you've got a million of things to do!! And I find it hard to be back on a routine after the holidays break! So here is an easy recipe to make that will please all the family with a sweet touch brought by the coconut milk. It's a perfect occasion to have your loved ones eat lentils and vegetables! I often make this dish and always freeze a portion or two for later and I'm always happy to find it in my freezer when I do not have time to cook diner… I'm sure you know that feeling !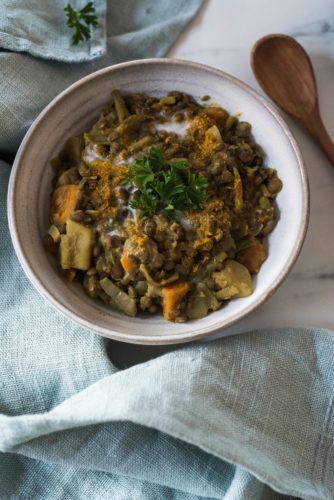 Recipe for 4 to 6 people
Difficulty: Easy
Preparation time: 15 min
Cooking time: 45 min
Ingredients :
250g green lentils
3 medium potatoes
3 carrots
1 onion
1 can of green beans
1 big tomato
20cl coconut milk
3 tsp curry powder
2 tsp ginger
2 tsp cumin
Salt and freshly ground pepper
Steps :
Place the lentils in a casserole then the diced potatoes, onion and carrots. Cover with 700ml of water and bring to a boil. After boiling, continue cooking for 20 minutes.
If there is still water, strain it and transfer it back into the casserole and add the coconut milk, the drained green beans, the diced tomato, the spices, a little bit of salt and pepper and let simmer on soft fire for at least 20 minutes.
Serve with a little bit of rice or just as it is!