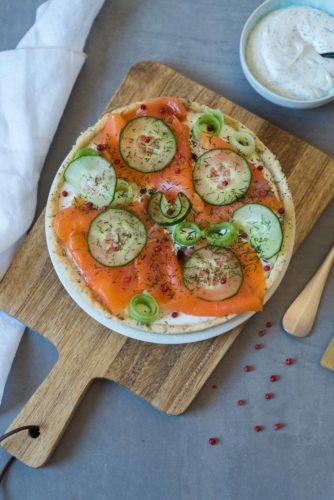 I recently posted the recipe of a cold ricotta, basil, tomato pie that was a great success here and amongst you as well (thank you for all the photos you shared with me!). And guess what… I did it again! But this time with another flavor: dill, salmon and cucumber. For the dill cream, I whip some whipping (or double) cream with cream cheese, so you have to let it in the fridge for a few hours before serving. This recipe is very fresh and perfect for hot summer evenings!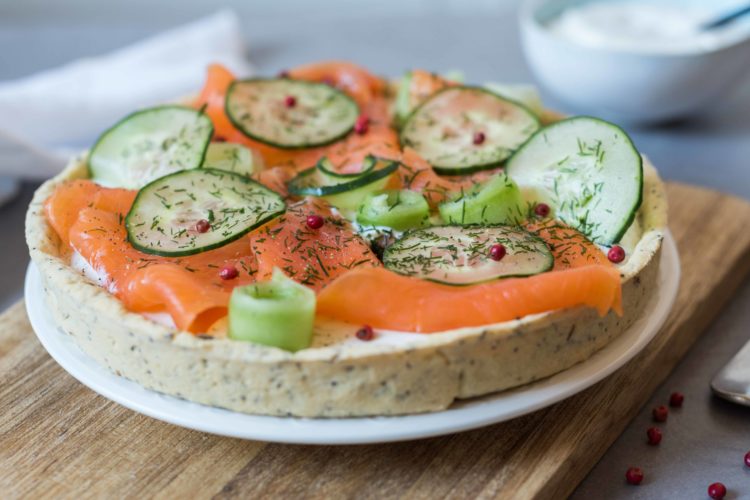 Recipe for 4 people
Difficulty: Easy
Preparation time: 15 min
Cooking time: 20 min (for the shortcrust dough)
Ingredients :
For the shorcrust dough (for 4 people)
150g flour
75g butter at room temperature
2 tsp cumin seeds
2 tsp poppy seeds
½ tsp salt
3 tbsp cold water
For the filling (the filling can be used for 6 people)
200g cream cheese
15cl whipping or double cream very cold
A few sprigs of dill (or frozen)
½ cucumber
4 slices smoked salmon
Some pink berries
½ lemon
Pepper from the mill
Steps:
Preheat your oven to 180 ° and place the bowl in which you will make your whipped cream into the freezer.
Prepare your shortcrust dough by placing all the ingredients in your robot. Knead at high speed until the set forms a ball. Spread the dough obtained with a roller on your lightly floured worktop, then place it into your pie pan (I used a circle of 20 cm in diameter). Make small holes in the dough with a fork, cover with parchment paper and baking weights. Bake for about 20 minutes until the dough is crispy.
When cooking, prepare your whipped cream. Whisk the cream cheese for about 1 min and then add your cold cream and whisk for about 5 minutes. Until it is smooth. Add a few sprigs of dill.
When the dough is cooked, let it cool and then spread the whipped cream over it.
Place in the fridge for 3h minimum.
When ready to serve, display your smoked salmon slices, cucumber cut into thin slices, a few drops of lemon juice and cover with pink berries, dill and some pepper from the mill. Enjoy cold.