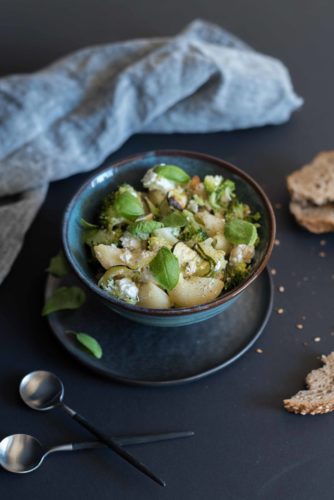 As some of you asked, I will post some salads and other fresh recipes for summer! We start with this one which has been a great success at home, with plenty of green vegetables. Certainly, it must be prepared in advance because the vegetables are cooked before, and you need to let them cool down before adding them to the salad (similar for the pasta!). I do not know where you guys live but here in Lyon, the summer is very hot!!! So I just want to eat cold in the evening and making lots of salads, gazpacho, cold tarts … I love it! And how about you? What are you having during those summer evenings?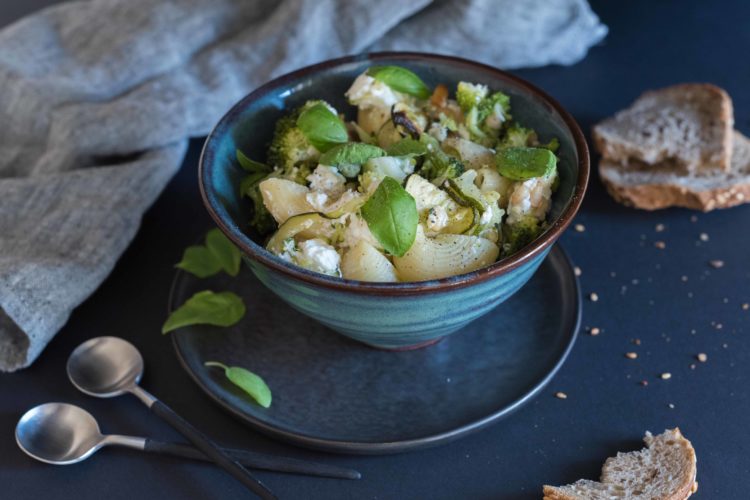 Recipe for 4 people
Difficulty: Easy
Preparation time: 15 min
Cooking time: 1h
Ingredients :
1 head of broccoli
2 zucchinis
200g pasta
50g pine nuts
200g fresh goat cheese
Salt and freshly ground pepper
20 basil leaves
Olive oil
Steps :
Preheat your oven to 180 °.
Cut the zucchinis into thin slices, place them in a baking dish and sprinkle with a bit of olive oil and some salt. Bake for 20 minutes then increase the temperature to 200 ° and cook for another 20 minutes.
Meanwhile, cut your broccoli, place them in a pan of boiling water with a bit of salt for 10 minutes (they must still be crunchy).
Cook your pasta, as shown on the package.
Brown the pine nuts in a dry pan until they color.
Add pasta, zucchini, broccoli, pine nuts, basil leaves and fresh goat cheese and stir the whole. Season with a little bit of olive oil and some freshly ground pepper.