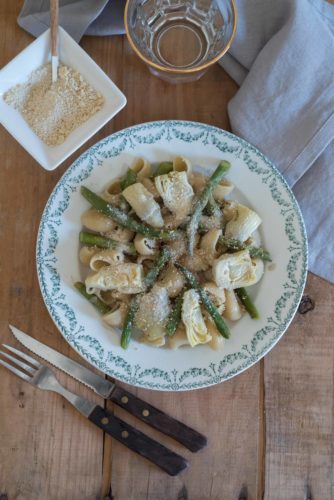 Well this recipe comes a little after the asparagus season, but it's been several weeks since I made it and I forgot to post it to you. If you cannot find some I advise you to buy them in jar, they're good too! The idea of ​​this recipe was born from the observation that I did not have much pasta recipes on my blog! I don't often eat some in fact, while I love pasta when they're perfectly cooked. It makes a good dish, which it made rather quickly. I found the association between asparagus and artichokes perfect, I really love both! To add a little crunch to the dish, I added a garlic breadcrumbs, it was delicious!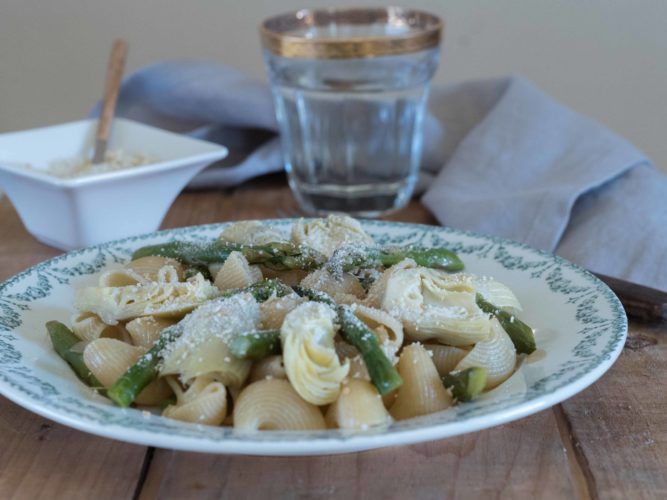 Recipe for 4 people
Difficulty: Easy
Preparation time: 15 min
Cooking time: 30 min (depending on the pasta you use)
Ingredients :
265g artichoke hearts in jar (drained weight)
A bunch of asparagus (or in jar: net weight 320g)
3 shallots
2 small garlic cloves (or garlic powder)
50g breadcrumbs (bought or homemade)
15g butter
10cl single cream
500g pasta
Salt & Pepper of the mill
Steps :
Cook the asparagus for 6 to 8 minutes in boiling water. Drain and reserve.
Peel your shallots and cut into small cubes. Melt the butter and add the shallots. Let them cook on low eat for a few minutes.
Then add your asparagus cut into 3-4cm sections, your artichoke hearts drained and cut into 4 and finally add the cream. Cook it for 5 minutes on low heat, stirring delicately from time to time.
Meanwhile, cook your pasta.
In a frying pan add your breadcrumbs, garlic cloves cut into very small cubes and leave on medium heat until well blended and browned.
Then stir the pasta with artichokes and asparagus and sprinkle with garlic bread crumbs.