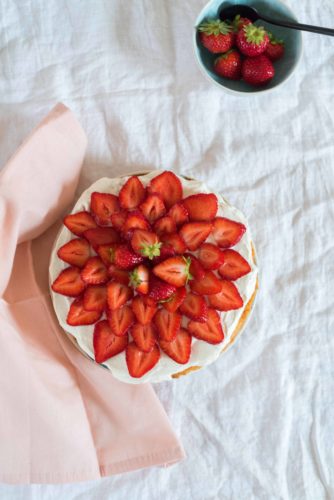 I love strawberry tarts and I must say that we see some everywhere on blogs and food magazines right now! But I wanted a strawberry tart that will look and taste a little different! Spending all my summers in Brittany since I was born (my adoptive land) I have a little crush on cakes from there… so the base of this pie is … a "Breton" shortbread. And as combining strawberries with whipping cream is a very winning bet, I've added a layer of whipped cream with mascarpone and placed my strawberries on top, a pure pleasure!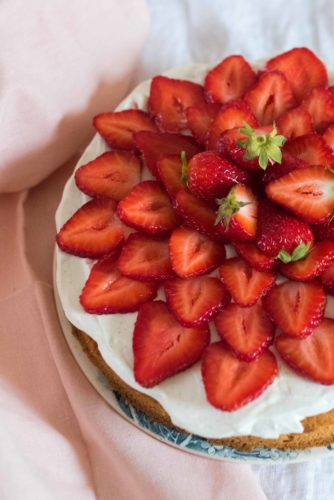 Recipe for 6 to 8 people
Difficulty: Intermediate
Preparation time: 45 min
Cooking time: 20 to 25 min
Ingredients :
For the breton shortbread
150g slightly salted butter at room temperature
130g caster sugar
4 egg yolks
200g self-raising flour
For the filling (vanilla cream with mascarpone and strawberries)
20cl whipping cream (must be cold)
150g cold mascarpone
3 tbsp icing sugar
1 vanilla pod
250g strawberries
Steps:
Preheat your oven to 180° and place the bowl in which you will whip your cream in the fridge (ideally in the freezer).
Prepare your shortbread by mixing well together the sugar, butter and egg yolks.
Add the flour and mix until well blended.
In a pastry circle or a baking round mould slightly buttered, arrange your mixture and bake for about 20 minutes. Keep an eye until the top (especially the middle) is golden brown. Remove the shortbread from the oven and leave it to cool.
Take your bowl out of the fridge, add the cream, mascarpone and vanilla pulp (cut the pod in 2 and remove the seeds with the tip of a knife). Using an electric mixer, whip until the cream until it thickens (it can take up to 5 minutes). Add the icing sugar. Once the cream is thickened and smooth, spread it on your shortbread.
Cut your strawberries and lay them on the whipped cream!