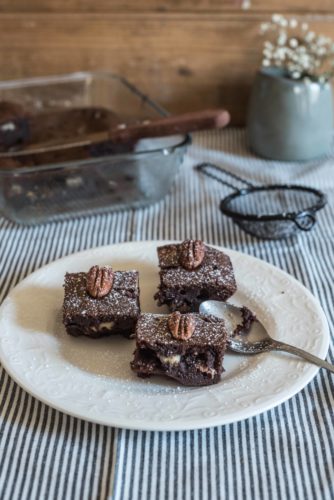 A great idea to finish off your Easter chocolates with this chocolate cake and pecan nuts! It is quite close to a brownie and to make it even meltier I've added some milk chocolate chips! And on the top of it: it's so easy to make. Well, otherwise I hope you all had a great time at Easter! Mine was super cool, seeing the entire family in Picardie (North of France) with good moments all together, lots of eating and relaxing time. It is much better when weekends last for 3 days, right?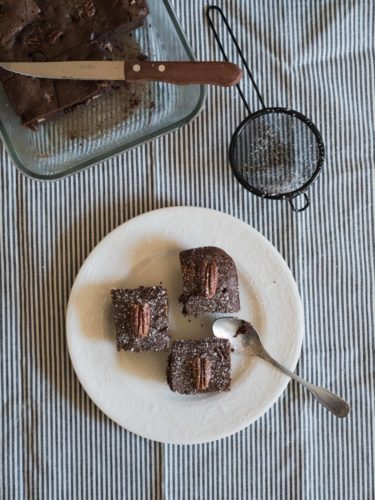 Recipe for 6 people (dimensions of the mold: 16x20cm)
Difficulty: Easy
Preparation Time: 10 minutes
Cooking Time: 15 min
Ingredients :
200g dark chocolate
100g butter
4 eggs
35g flour
30g caster sugar
40g pecan nuts shelled
40g milk chocolate chips
Steps :
Preheat your oven to 180°.
Have your chocolate melted in a saucepan with the butter.
On the side, beat the eggs until the mixture is foaming and add the sugar, the flour and finally the chocolate and melted butter. Mix between each addition. Then stir the chocolate chips and pecan nut shelled (you can keep some for decoration).
Butter your mold and then pour your preparation and put in the oven for 15 minutes. Let it cold and add the remaining pecan nuts on the top.