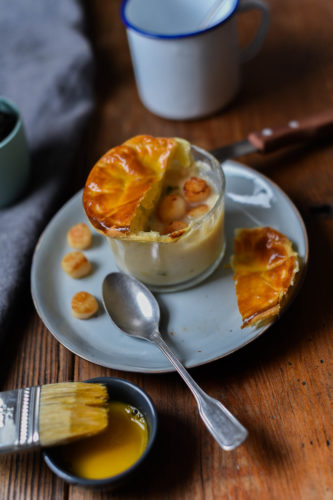 As I do every month, I will buy one of my fav French cooking magazine: "Saveurs" which means "flavours" in French. And so it is quite naturally that I make every month a recipe from it. April is the month where you start seeing asparagus in supermarkets, but as I couldn't find any last week I bought some in jars and the result is really great! This was the first time that I ate asparagus this way but the taste was really good and this soup was a true success here…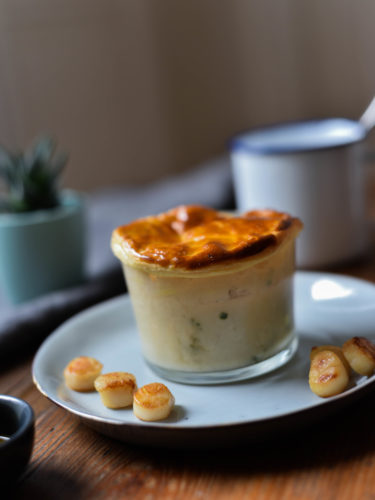 Recipe for 6 persons (served in ramekins)
Difficulty: Easy
Preparation Time: 15 minutes
Cooking Time: 45 min
Ingredients :
2 x 530g jars of white asparagus (net weight 320g) – be sure to keep the juice
2 shallots
10cl vegetable stock
200g small scallops
10cl single cream
20g butter
2 tbsp diced parsley
1 roll of puff pastry
1 egg yolk and a little bit of milk
Salt and Pepper of the mill
Steps :
Chisel your shallots and cook them in a large casserole with 10g of butter.
Drain your asparagus (keep the juice from the jars) and cut each in 3-4 pieces.
Add the asparagus in the pan, cover with both the stock and the asparagus juice and cook for about 30 minutes on soft lights.
During this time, add the 10g of remaining butter in a frying pan and fry your scallops for 2-3 minutes on bright light.
Cut in the puff pastry circles a little wider than the diameter of the ramekins.
Turn on your oven on 180°. Mix your asparagus soup, add the cream and correct the seasoning with salt and pepper. Display it your ramekins, divide the scallops and parsley between them and cover with the circle of puff pastry by welding the edges.
In a small container, whip the egg yolk with the milk and using a brush, colour the dough.
Put in the oven for 15 minutes and enjoy without waiting.