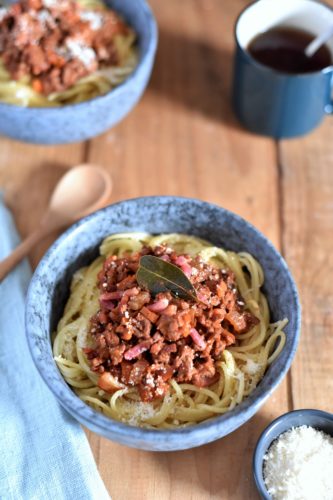 I told you about it… here is a great comfort food dish that will be perfect for this weekend: Spaghetti alla Bolognese. The secret of the sauce: let it simmer for 1 hour to bring out all the juices! This recipe is in fact the basis that I use to make my meat lasagna (I found the recipe on the marmiton website). I just add in extra a few pieces of bacon to give a salty taste. Just add to the above a bit of parmesan cheese and enjoy…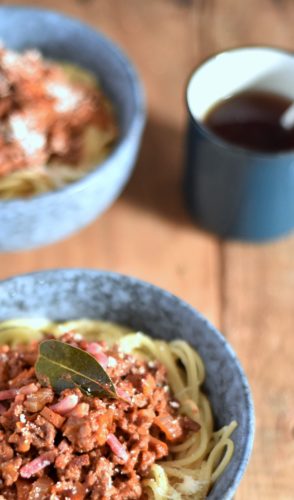 Recipe for 4 people
Difficulty: Easy
Preparation Time: 45 min
Cooking time: 1h10
Ingredients :
2 medium onions
2 cloves of garlic
10g butter
1 carrot
1 celery stick
400g minced meat
100g smoked bacon cut in stripes
500g tomato puree
½ glass water
½ glass red wine
A few Bay laurel and thyme
Salt and pepper
500g spaghetti
50g parmesan cheese
Steps :
Peel the onions, garlic, celery and carrot and cut into small thin cubes.
In a saucepan add the butter and cook the onions and garlic for 5 minutes. Then add the carrots and celery. Continue the cooking for 5 minutes.
Add your minced meat and stir until the meat colors. Then pour the red wine and wait until it evaporates.
Add the bacon stripes, tomato sauce, water, herbs and salt, pepper, then stir and allow to simmer for 1h on soft fire stirring from time to time.
10 minutes before the end, immerse your spaghetti in a boiling and salty water and let it cook for the time indicated on the packaging. Then divide the sauce on the pasta and cover with parmesan cheese. Enjoy while it's hot!