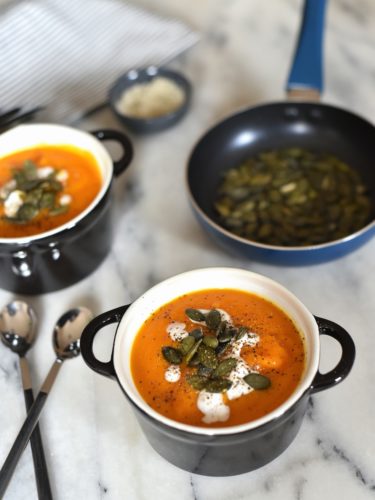 If you need a comforting soup I highly recommend this one. This winter squash and sweet potato soup is very smooth and to add even more softness I added at the end some coconut milk. To bring some crispy texture I sprinkled with grilled squash seeds. I do not know if you have already tried to remove the skin of a winter squash (the green one) but it requires some patience!! For this, I've used another technique which consists of cooking the squash in a boiling water for a few minutes and to remove the skin after that, so easy! To remove the skin from the butternut squash, I've simply used a peeler.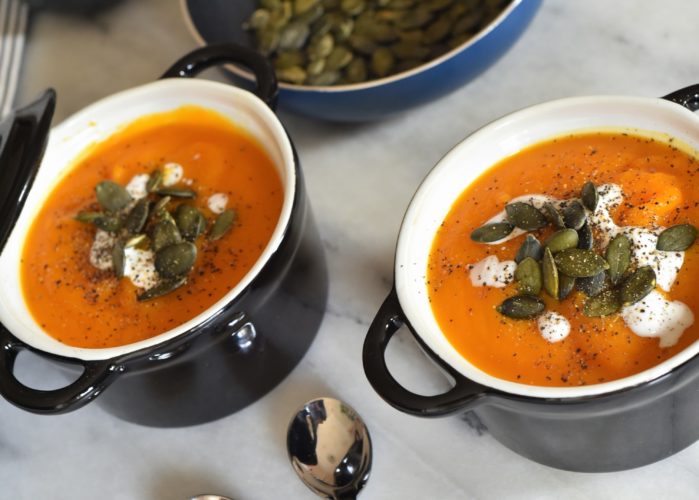 Recipe for 4 people
Difficulty: Easy
Preparation time: 15 min
Cooking time: 45 min
Ingredients :
½ winter (green) squash
½ butternut squash
2 sweet potatoes of medium size
1 onion
100g coconut milk
2 handles of pumpkin seeds
½ vegetables stock cube
Salt and pepper
A little bit of butter
Steps :
To remove the skin from the winter squash: bring to boil some water, cut your green squash in 3 large pieces and immerse them in the water for 10 minutes. After that stage, let it cool and then using a knife, remove the skin and cut in large cubes.
During the 10 minutes of cooking, remove the skin of the butternut squash with the help of a peeler and cut in large cubes. Do the same for the sweet potato and then peel and cut the onion into slices.
In a large saucepan fry the onion with the butter until it is translucent. Then add the vegetables, half of vegetable cube crumbled and then cover the vegetables with water. Cook for 45 minutes.
During this time, place your pumpkin seeds in a pan for 3-4 minutes, stirring at times.
Once the vegetables are cooked, mix the whole (you can remove come cooking water if you want the soup thicker).
Pour into bowls, cover with coconut milk, pumpkin seeds and salt and pepper. Enjoy hot.