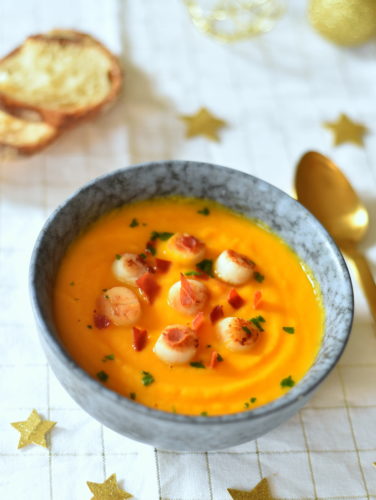 An idea of a light starter for Christmas with this Carrot and orange soup with scallops. I added a little bit of parma ham to add some crispy to the dish. Adding orange juice to the soup makes it soft and slightly sweet, a true delight. You can prepare it in advance and just before serving, cook the scallops and ham.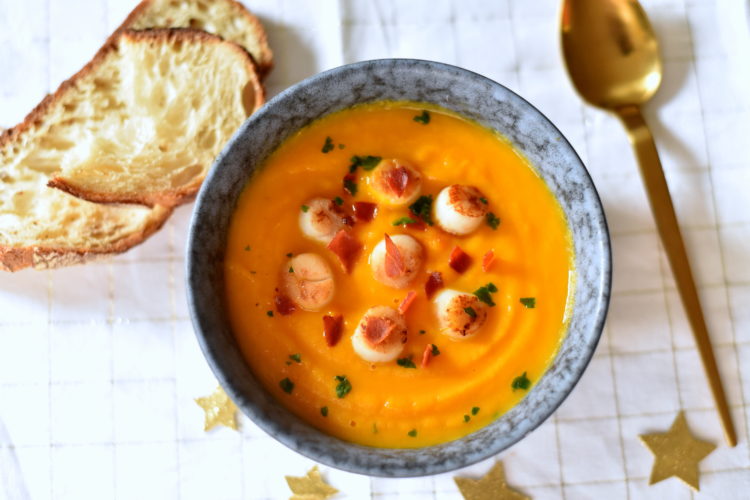 Recipe for 4 people
Difficulty: Easy
Preparation Time: 10 minutes
Cooking Time: 45 minutes
Ingredients :
500g carrot
1 onion
1 orange
10cl single cream
16 scallops
2 slices of parma ham
A bit of parsley
A bit of butter
Salt and pepper
Steps :
Prepare a marinade for the scallops by adding in a bowl the scallops and a bit of orange juice.
Peel your onion and cut it into strips. Peel and cut your carrots.
Place in a saucepan with a little bit of butter your onion and then add your carrots. Add a bit of salt and pepper, and cover with water up until it covers the vegetables (approximately 600ml).
Cook on low heat for about 40 minutes (until the carrots are cooked).
During this time bake the ham, as indicated in the recipe of Butternut ~ chestnuts ~ crispy bacon and cook your scallops in a pan, one to two minutes on each side.
Once the soup is ready, add the orange juice and the cream and blend.
Display in bowls and add on the top the scallops, the parma ham and a little bit of parsley.