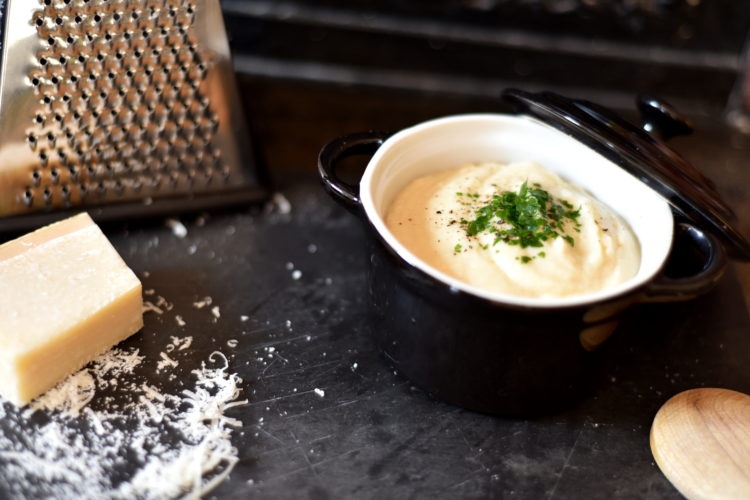 Another soup recipe (some more will follow shortly!) with this creamy cauliflower and parmesan cheese soup. As you will see in the ingredients, this soup is quite heavy so I recommend you to serve it as a main only with a green salad, or as a starter but to measure quantities 🙂 I love this soup, with the good taste of parmesan cheese which softens the taste sometimes a little strong of the Cauliflower!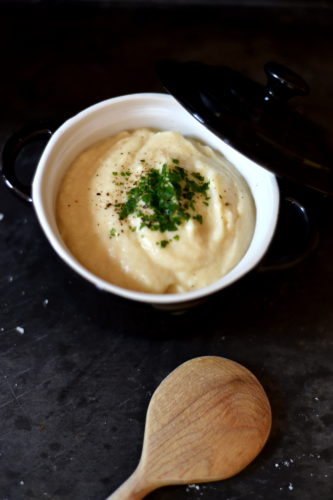 Recipe for 6 people
Difficulty: Easy
Preparation Time: 10 minutes
Cooking Time: 30 min
Ingredients :
1 large cauliflower
2 medium potatoes
1 L of semi-skimmed milk
100g parmesan cheese
½ chicken broth or vegetable cube
A little bit of cut parsley (optional)
Steps :
Cut out the flowers of the cabbage and clean them under the water.
Peel the potatoes and cut them into chunks.
Add in a casserole or large saucepan, cauliflower, potatoes, the ½ broth cube and pour the milk on the top.
Heat to soft fire for 30 minutes.
Just before mixing the overall, add the Parmesan cheese. Mix and adjust the seasoning. Sprinkle with parsley cut.